In glorious sunshine and lovely wind from the south-east, starting out at force 2, and rising to a perfect 3 gusting 4, sixteen visitors – from as far away as Glasgow – joined nine home boats for the Welton SC Streaker Open meeting on Saturday 25th April, demonstrating once again the rising status of this popular single-hander.
Circuit hot-shot Ian Bradley had a great start to the first race, and led Ian Lees and Peter Coghill – the only entrant to sail with the recently allowed fully centred main-sheet – to the first mark, and eventually to the finish line. Veteran Mike Rimmer – embarrassingly, the Class Association chairman – started disastrously by entangling the start-line bouy, yet fought through the fleet to 9th place, proving the value of experience over youth.
After a legendary Welton lunch, a stronger, more satisfying wind saw six home helms in the last seven at the first mark, showing that local knowledge doesn't count for much! Local star Dave Smith led from the start, with Ullswater visitor Lawrence Wride initially in close competition, but after a poor start, Ian Bradley did what he does best by steadily working the shifts through the fleet to take second place at the line with Peter Coghill again in third.
A hefty helping of home-made cakes was followed by the third race which saw Bradley again lead from the line, and steadily open the gap, this time with Tamworth improver Matt Whitfield fighting off the competition for the second spot. Dave Smith and Hornsea's Dave Metcalfe had a running battle for fourth and fifth place, overtaking the initially well-placed Peter Coghill. Further down the fleet, locals Lianne Therkelson and Steve Abbott had an exciting duel, swapping places repeatedly, before the latter won the battle by a foot on the line. Overall, a fabulous day's competition, in perfect conditions, with very clean racing and perfect starts.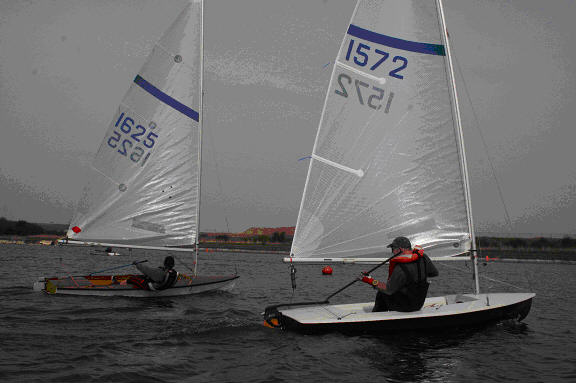 Overall Results:
1st Ian Bradley Ouse Amateur
2nd Dave Smith Welton
3rd Peter Coghill Rotherham
4th Ian Lees Dovestone
5th Matt Whitfield Tamwoth
Welton Streaker Open Report