Report on the Welton Sailing Club Streaker Open Meeting
Held on Saturday 13th October 2012
PDF of complete results here; Streaker Oct 2012

Thirteen visiting boats and eleven local boats took part in the three races held at Welton Sailing Club in a light westerly wind which required delicate boat handling throughout the day.
With a F1 wind that was forecast to drop the Race Officer set a short triangular course at the leeward end of the lake to ensure all boats could get a result. With 2/3rds of the fleet over the line on the first start, a general recall was necessary and with a black flag displayed for the 2nd start the fleet were more disciplined by keeping well back from the line. At the first mark Chris Wright from Ripon lead the fleet followed by Peter Cogill from Rotherham who retained these positions after one lap. By the 2nd lap Ian Bradley from Ouse Amateur had taken the lead with Peter Cogill now in 2nd place and Chris Wright falling back the 3rd place. Due to the reducing wind strength the course was reduced to three laps with Chris Wright as eventual winner followed by Ian Bradley and Peter Cogill in 2nd and 3rd places respectively. Highest positioned local boat was Dave Smith in 6th position.
The wind had increased to F2 for the 2nd race allowing a course to be set over the whole lake. Once again there was a general recall but the second start was good for everybody with Richard Wharram and Dave Smith, both local boats being first to cross the line. Ian Bradley was first to the windward mark followed by Robin Jones from Hykenham and Philip David from Yorkshire Ouse. Ian Bradley with clear wind then built up a substantial lead and after one lap was followed by Robin Jones and Chris Wright. The longer course had to be reduced to two laps with Ian Bradley easily maintaining his lead to win followed by Chris Wright and Robin Jones in 2nd the 3rd places respectively. Highest positioned local boat was Dave Smith again in 6th place.
The wind reduced to F1 and became slightly variable during the third race when two windward legs were set to allow for variation. The fleet got away on the first time with only Ian Bradley being over the line at the start, but in returning to cross the line he must have picked up a favourable shift and was first boat to reach the windward mark followed by Jon Willars and Pete Fletcher, both from Welton. Ian Bradley maintained the lead after one lap followed by Chris Wright and Mike Rimmer from Welton. Ian Bradley and Chris Wright were having a good battle but Chris Wright missed the windward mark and had to return which allowed Peter Cogill through. The wind held up for three laps with Ian Bradley winning followed by Peter Cogill and Chris Wright in 2nd and 3rd places respectively.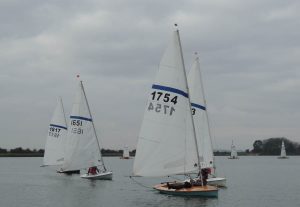 Allowing for one discard, Ian Bradley with two wins won the open meeting with Chris Wright only one point behind in second place. Peter Cogill was third with 5 points, local boat – Dave Smith was fourth with 10 points followed by Robin Jones in 5th place with 12 points.
Welton SC would like to thank everybody who took part in the Open Meeting and look forward to supporting the Streaker Association again next year.
Summary results
| | | |
| --- | --- | --- |
| ian bradley | ouse amateur | 1 |
| chris wright | ripon | 2 |
| peter cogill | rotherham | 3 |
| dave smith | welton | 4 |
| robin jones | hykenham | 5 |
| paul jago | hykenham | 6 |
| philip david | yorkshire ouse | 7 |
| mathew whitfield | tamworth | 8 |
| pete fletcher | welton | 9 |
| mike rimmer | welton | 10 |
| paul noble | clyde | 11 |
| dave butler | welton | 12 |
| jonti mason | hykeham | 13 |
| pete tyerman | penine | 14 |
| rosie fletcher | welton | 15 |
| ian whitfield | tamworth | 16 |
| richard wharram | welton | 17 |
| jon willars | welton | 18 |
| steve abbott | welton | 19 |
| lianne therkelson | welton | 20 |
| s j chilton | yorkshire ouse | 21 |
| ian morrison | welton | 22 |
| andy saunderson | welton | 23 |
| andy yates | welton | 24 |